………………………………………..
No litters planned at the moment.
………………………………………..
…
Upbringing
Every puppy is raised with the intention of preparing him/her for the real world. They grow up in our home and garden with all the sights and sounds of an average household, like vacuum-cleaner, small engines, a.s.o. We gently accustom your puppy to become a good sozialized dog: he/she will experience everything from driving in a car, getting to know other dogs, playing with Kids and much more. Naturally each pup receives regular individual attention. Our home & garden is full of puppy-appropriate toys for them to play to their hearts content and to act out their natural curiosity. All puppies receive UKC-registration. They will come to you with a health clearance from the vet, will have their first two sets of vaccinations, be de-wormed and microchipped.
Our most important goal:
A healthy, self-confident dog with a good temperament, who will be a true, lovable companion to his/her new owner … wether as a family and/or working dog.
Even after the puppy's moved into it's new home, we'll be available for advice, support and help. We use to maintain an active communication with all our puppy-families and love to follow the development of each dog.
For more information, please contact us via email or call 1-206-201-2526 (SatPhone in Atlin). Serious inquieries only! Reservations recommended. Visitors welcome!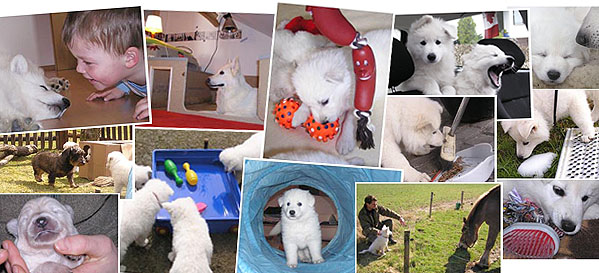 ….
………………………………………………………………………………………………………………………………
Our litters
………………………………………………………………………………………………………………………………

…
B-litter – 2009

On August 7th, Lynnie brought 12 lovely puppies into this world. 3 males, 9 females.
Sire: Fynnian-Sugar of Buscin's Love & Dam: Ailynn-Tala of Atlin Mtn. Blizzards

About the Parents:
Both dogs have certified hips & elbows and come from german champion bloodlines. Lynnie & Fynnian are imported from Germany (FCI-reg'd). Lynnie comes from our own kennel (A-litter, born in Germany before we've moved to Canada in 2007).
Fynnians sire Hunter-Louis of Beautiful White is a german champion and earned multiple "Best of Breed" titles. His dam Ivaine-Tabea of beautiful White is also german champion.
Lynnies sister Angel-Naomy of Atlin Mtn. Blizzards (from our first litter) is currently the most succesful female in german conformation rings. She received her german championtitle in 2008.
Father Fynnian, Mother Lynnie and Grandmother Blizzy can all be seen at our home in Atlin.

………………………………………………………………………………………………………………………………
A-litter – 2006



DOB: February 26th 2006, 10 puppies – 5 boys / 5 girls
Sire: Bandit van´t Reterink
Long coat, date of birth : april/20/2002, HD-report: HD A (no HD), Height: 65cm
Shows: 5xV1, 5xBOB, CACIB, CAC, CAC-Res., Jugendsieger (YouthChampion)
Dam: Blizzy vom Ebbegebirge
Long coat, date of birth : jan/12/2004, Height: 60cm, HD-report: HD A (no HD)
Show-results: 2xV1, 1xV2, CAC, CACIB, Aspirant German Champion
Bandit & Blizzy:
They´re are not only a nice match physically. Also mentally they fit perfectly. Right from the start Blizzy and Bandit got along very well at their first "date". Bandit has a wonderful black pigment, an excellent body-structure and a friendly character.