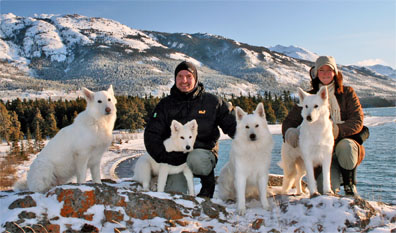 We are Manu & Sascha Keggenhoff with our dogs "Blizzy vom Ebbegebirge, Ailynn-Tala of Atlin Mountain Blizzards, Fynnian-Sugar of Buscin´s Love and Breeze of Atlin Mountain Blizzards. In 2007 we moved with our three dogs from Germany (where our kennel was first located) to Canada (Atlin, BC) where we now continue our breeding program.
We breed and raise these wonderful dogs with great responsibilty and passion!  Our ultimate goal is to provide healthy and mentally strong White Shepherds.
Our kennel "Atlin Mountain Blizzards" is a certified, FCI-registered kennel, NO puppy-factory. Only one litter per year.
———————————————————————————————————
We have 4 wonderful, well socialized Whites, who all live with us inside the house. They're family dogs, no kennel- or kept-on-a-chain-dogs. Our dogs accompany us almost everywhere we go.
We live on scenic 7 acres, including fields, a creek and a little forest, where our dogs can play and explore.
As a minimum, all our dogs are trained in obedience and are qualified for breeding (hip/elbows Xrays, MDR-1-tested aso).
———————————————————————————————————
We are a small kennel, specialized in breeding quality White Shepherd Dogs. Our breeding program takes into consideration that most of our puppies will move into pet homes. With this in mind, temperament and good socializing are of great importance. Quality in structure, type, and health however are of equal importance to us.
All our dogs are OFA or HHK (FCI-rating system) certified, and we do the very best to ensure the health of our puppies by screening the parents against all possible genetic disorders (including MDR-1). Our White Shepherds are perfect family members who are capable of being working/sport dogs.
For more information, please contact us via email or call 1-206-201-2526 (SatPhone in Atlin).
Visitors are welcome!